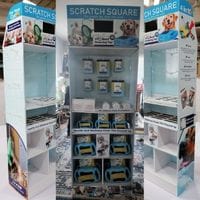 A new way to purchase Scratch Square by De' Vora products!
Our motion detection POS display offers a unique interactive experience. With voice overview prompts, QR codes and a monitor insert, your customer will have a personalized experience that caters to their individual needs. 
Dimensions: 2' x 1' x 5'5"
Scratch Square Wholesale POS Display